Rebel Tanks are armoured cutters mounted with a two-barreled cannon.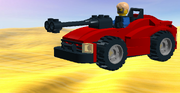 They are only used by the
Rebellion
.
These tanks are only used by Rebel Soldiers.
There are also Rouge Tanks created by Lord Hixel.
Brick is the creator of the Rebel Tanks.
Ad blocker interference detected!
Wikia is a free-to-use site that makes money from advertising. We have a modified experience for viewers using ad blockers

Wikia is not accessible if you've made further modifications. Remove the custom ad blocker rule(s) and the page will load as expected.