Brick is the mascot of the Rebellion and friend of Chris.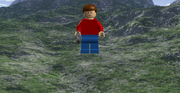 Appearance
Edit
Brick must be some civilian wearing a red sweater and blue pants to help Chris and Mark defeat Lord Hixel to save his planet Nacu. He's 20 years old who spends his wartime shooting evil with his custom revolver, writes messages to Rebel Soldiers on Facebrick and eats a studburger at Brickdonalds to increase his health.
He is named after Brick Buildmore.
He makes Rebelbots in his spare time.
His favourite colour is red.